Christmas in Afghanistan 2012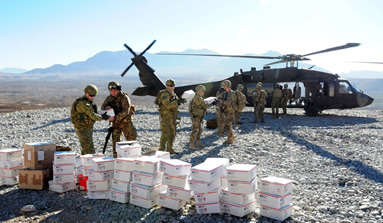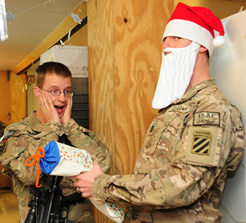 ---
Dec. 15, 2018
Good Morning,

My name is Ben Richards. I am an active duty Army Captain with 1st Squadron,
89th Cavalry Regiment, Second Brigade Combat Team, 10th Mountain Division at
Fort Drum New York.

I received a generous care package from your organization, the Blue Star
Mothers of America. I wanted to personally thank you for this incredibly
generous package. It made a difference to my Soldiers and myself during this
holiday period. Though we may be away from our families, it is comforting to
receive incredibly thoughtful donations from your organization in the
states.

The snacks will keep us well fed, and the hygiene supplies will ensure we
stay fresh and clean!

Thank you for your gifts, and the incredible work that your organization
performs. I have good friends (who also used to be stationed at Fort Drum)
in Delmar, and it is a place that is near and dear to my heart.

-Ben Richards

V/R

Benjamin D. Richards
CPT, OF-2
S1
Forward Command Post
1st Squadron, 89th Cavalry Regiment
MNBG-E, KFOR 25

---
Dec. 14, 2018
Hello blue star mothers I'm Spc. Harnish and I just received the most heartfelt care package on this deployment from you guys! I want to leave a personal thank you to 10 year old Ava for leaving me a really sweet message from her to me! It's hard sometimes being away from family for this long and receiving gifts like this makes it a lot easier ! It's been hard but the organization you guys have makes it so much easier !
With Much Love ,
Riley Harnish
---
Dec. 14,2018
Dear Ladies,

Thank you so much for the gift boxes!

We all enjoyed them greatly and appreciate all the hard work that you put in
to making these.

The letters are especially adorable.

We are saving them and will write back.

Blessings this holiday season!

V/R,

1LT Christiana L. Bentz
---
Dec. 13, 2018
Blue Star Mothers Of America,
I have received a care package today from your chapter and it honestly made my day. With the Christmas season coming around it's hard with missing our family and friends back in the states. It was nice to receive a little bit of home and the care products were really nice. It really boosted the morale around my unit Alpine Troop, 1-89 CAV and made a lot of us soldiers smile. So again Thank You and Merry Christmas.
Very Respectfully,
CPL Caraballo
---
Dec. 13, 2018
HI! My name is SPC Sloan, Rynesha I wanted to let you know that I received your package today.
I'm truly grateful for the care package that you put together. The other soldiers and I wanted to say thank you for
thinking of us and supporting us .

V/R

Rynesha L. Sloan
SPC, OR-4
A TRP Commo Rep
Forward Command Post
1st Squadron, 89th Cavalry Regiment
MNBG-E, KFOR
---
Dec. 9, 2018
Good morning! This is Chaplain Booth. I was amazed when I went down to my higher headquarters just the other day. I went to the Post Office to mail off some Christmas gifts to my fellow chaplains and the lady at the counter looked at my name and said, "Sir, is your first name Chad?" I said, "yes" to which she responded, "You're Captain Chad Booth!?" She said that I had some mail and if I wanted to I could pick it up now. So I agreed to it and was very thankful. I was also thankful that I brought the mini van! That van was packed from end to front from top to bottom! What an awesome experience. The military personal there were very jealous so I told them that if they could fit all of that in the van I would give them 6 boxes, one for each. The other 111 ( I think) will be distributed this Tuesday, Thursday and next Monday.
I am SO thankful for you and your dedication to the Troops of the mighty 1-89 CAV! God bless you and your Christmas season!
Very respectfully,
Chaplain Booth