Christmas in Afghanistan 2012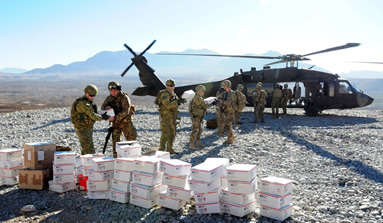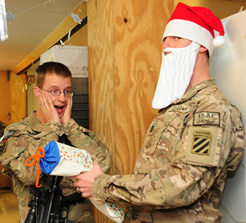 ---
December 10, 2012
Hey mom. So I got the package from the blue star mothers. And please tell them all I said thank you. Everything in there is useful. And I love the hat and socks. They are nice. The socks are comfortable and I have them on right now. I love you. Miss you.
from BSM Susan Lake-Ayala's son Mitchell
---
December 8, 2012
Hi Blue Star Moms,
I wanted to say thank you on behalf of my son, Mike, who in currently in Afghanistan with the the 3/9 Marines. He sent this message this morning: "Hey, came back from patrol and had a package from the Capital Region Blue Star Mothers...it is awesome! Tell them thank you...it made me feel great to have people (that I don't even know) from home support me and what we are doing over here!" So....THANK YOU, THANK YOU, THANK YOU! Those notes & packages from home are so appreciated.
Fondly,
Colleen Bonacci, BSM NY2
---
December 7, 2012
I wish to thank you for the generous boxes you have sent to my unit the 181st EN CO. We are a National Guard unit out of Cape Cod, Ma and are deployed to Afghanistan. My Soldiers are located all over the country and at small COP's and FOB's. I have the honor to drop these boxes off and see the smile on their faces when they receive the care packages. It is the citizens like you, that make this the greatest country on earth. I wish you all a wonderful holiday season and a prosperous New Year!
"Cape Cod Pioneers"
Brendan P. Bowen
Task Force Lumberjack
---
November 11, 2012
Dear Blue Star Mothers of the Capital Region,
Thank you so much for all the care packages you have entrusted to me for distribution to my fellow soldiers. I'm currently assigned to the 691st Forward Surgical Team, at Forward Operating Base Sharana. Our mission is to provide emergency trauma resuscitation close to the point of injury. We have been busy, but not overwhelmed. Toiletries are always welcome, as are nonperishable snacks, cards, games and puzzles. I can tell that your group has been doing this for some time, as it is all the stuff that we need and/or Love! I have said in the past that "America is not at war. America's Military is at war. America is at the mall." You and your wonderful remind us that this statement isn't entirely true and we are not forgotten! Thank You for your service to the America's Sons and Daughters!
Warm Regards,
Jim Glass
US Army Nurse Corps
"Ready, Caring, Proud"
---
September 21, 2012
Blue Star Mothers:
Six more boxes arrived today. They came in on a day that someone else received a bunch of boxes, so I'm forwarding these to one of our more remote locations. As much fun as it is for us to open them and paw through the contents, I'm going to forego that fun and let some of our Down Trace soldiers do that. I can assure you that these packages are greatly appreciated. It means something that someone from home that we don't even know takes the time to show us you care. When we turn on the news, if feels a lot like the country either forgot, or doesn't care that 100,000 of their sons and daughters are in a combat zone. So your efforts are especially appreciated.
By the way, if you run across one of the Patriot Guard Riders with their bright yellow triangle patch, tell them how much we appreciate what they do.
Carl Rice
411th Eng Bde: Task Force Empire
G7 Construction Effects
---
July 6, 2012
I just wanted to take the time to thank you for all the wonderful packages you have sent my way! I sent a proper thank you note in the mail but I don't know how long it will take to reach you. You are truly a wonderful organization and are completely selfless thinking about Service Members you don't even know. I have been able to distribute the contents of the packages to MANY Soldiers in my unit and they are very appreciative. The girl scout cookies are always a huge hit. The childrens' cards are hanging up in our Morale area and make me smile everytime I see them. Thank you again, and a special shout out to Karen Ferris-Fearnside. Brittany told me you submitted my name. You are a wonderful woman and your daughter is very special to me. I miss her like crazy and I pray for her every day as she starts her journey with the CST. I feel truly blessed to have this organization looking out for our Soldiers as well as myself. Thank you again!
Shannon McKenna
---
July 3, 2012
To All,
I just received a care package a few days ago from your organization and wanted to take a moment to say thank you. I do really appreciate you taking the time to pack and send a package to me. I would also like to pass on a huge thank you from the other guys i work with (every package I get I share with everyone to keep their morale up). Its been a while since I've had a chance to spend a significant amount of time back home in NY but it greatly boosts my spirits to know that even though I may not be in the state there are still people back home that do this for our local service members deployed. In 5 years of service, this is my first deployment and I really want you all to know these package do make a huge difference in our lives over here and makes each day a little easier to get through knowing that someone is out there thinking of you. Thank you so much for all that you are doing for us.
Very Respectfully,
Joshua Greene
---
Feb. 28, 2012
Capital Region Blue Star Mothers,
Thank you so much for your wonderful package. Your thoughts and support are tremendously appreciated by all the soldiers in our Aid Station here in Kandahar. Everyone loved the goodies and expresses much gratitude.
Sending you lots of hugs from the docs and medics and a big "Mahalo" and "Aloha"
25th CAB
Wheeler Air Field Hawaii
---
Mar. 8, 2012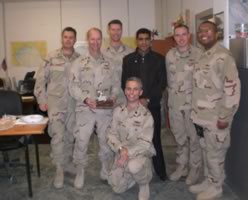 Dear Blue Star Mothers,
I wanted to thank you for your continued support of a bunch of Sailors stuck in Baghdad. I received your care package today. The mail from the States is taking about six weeks to reach us. Once the Army pulled-out in December, there are not many services left here. So your donations are very much needed and appreciated. My Mother (Bonnie Perry) helps with the packing of the boxes, so they have special meaning to me. I always open my box and share everything with my fellow shipmates. The box is usually empty a few minutes after I open it. But, if there is anything left in the box by the end of the day, I send it up to the Air Force office. ;-) A few of the guys never get anything in the mail, so it is always nice to see those guys smile when the goodies are shared. It means a lot to us stuck here without or families to know that strangers still remember that we are here.
Thank you!
Best regards,
Vincent Perry
---
Dec. 18, 2011
Hello,
I just wanted to send you a personal thank you for all you do. My husband (Joshua Higdon) has gotten packages from you, and he wanted to say thank you, as do I. He really enjoys getting mail, as do all of the guys over there and it definitely helps keep their morale up to know people back home, even ones they do not know personally, care for them and support what they are doing. As you may know, he is currently deployed to Afghanistan with the 3rd brigade combat team, 10th Mountain Division from Fort Drum, NY. They have been deployed for about 10 months now and unfortunately have had to deal with many hardships and losses. Every item in every box sent goes to good use and is shared with everyone. It also feels very good as a wife knowing that others care so much and that even when I cannot send packages, there is backup! Again, thank you so much!
Amy Higdon
---
Dec. 8, 2011
My name is Sgt Todd Jones and I am writing you because Sgt Wilkins received about thirty boxes he was not even expecting and we were all overjoyed.
On the new COP ( combat outpost ) we built we don't get as much to eat as we are use to so when your boxes arrived we descended on them like a pack of dogs. One of the guys said it was a taste of home.
A lot of the guys didn't even know what a blue star mother was. Well unlike most of these guys I am over Forty so I explained that a blue star mother is what you want your mom to be, not a gold one. A few more people understand now and one said he now knew why the lady living down the street had a gold star in her window. So far not one loss in our company which for me is a record I have served three tours in Iraq including the invasion so a quiet tour of Afghanistan was the last thing I expected. It is very welcome. Thank you so much for the feeling of home it is so rare it surprises you when it hits.
Take care and don't be changing those star colors, I like blue.
Todd Jones Cop MS Task force Dealers A co 1/67 1st Platoon.